Blossoming Your Essences Retreat May 19
Blossoming Essences Retreat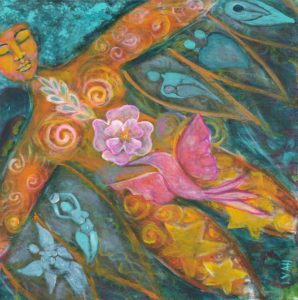 We all have come into this world with soul imprints of the Essences and Gifts we bring to this earthwalk.  As we grow and have experiences that knock us down and "teachings" from others about who they think we are, should be, or those "who the hell do you think you are?!" moments, we sometimes lose our clarity and connection to those precious essences that only we can bring forward into the world. We forget how precious we are.
This day-long retreat is an invitation to your soul to untie the tangles that keep you from knowing and flowing your gifts, to illuminate the Essences that inform who and how we are, and to blossom the magnificence of your Essences and Gifts in the world. We will journey into the Wise and Wild Imagination, paint and claim what is revealed, and create practices to strengthen and blossom our Essences and Gifts brightly, fully, and without apology.
All materials provided. You do not need any prior painting knowledge or experience. Just wear clothes you don't mind getting paint on, buff your soul into shiny presence, and come ready to rock. You may want to bring snacks. There will be a break for lunch.
Pre-registration required by May 12, 2018. Please contact Havi at paintingshaman@gmail.com with any questions.
When: Saturday, May 19, 2018, 10 a.m. – 6 p.m.
Where: Growthspring Healing & Creative Arts,
              Art Square, 1025 S. 1st, Suite 140
              Las Vegas, NV 89101
Cost: $80
Registration for Retreat $80.00